Preliminary study of rodents from the Golliher B Assemblage
of Meade County, Kansas, USA
An assemblage of fossil rodents, dated to 12,500 radiocarbon years B.P., was recovered from a stream bank in southwestern Kansas. Called the Golliher B local fauna, the rodents include some extant species living today to the north of the fossil site. Collectively, they indicate a much colder climate than now found in the area, consistent with many other fossil assemblages of the same age from elsewhere on the Central Great Plains. Additionally, an analysis of proportions of 5 and 6 triangle forms of the lower first molar in the meadow vole from a number of PLeistocene (Ice Age) assemblages, inclduing Golliher B, shows that the modern proportion was established in an amazingly rapid period (1500 years) coinciding with the coldest phase of the late Pleistocene.
Estudio preliminar de la asociación de roedores de Golliher B en el condado de Meade, Kansas, EEUU indicativo de un periodo de frío intenso cercano al final del Pleistoceno.
Una asociación de roedores, proveniente de una fina capa de sedimento encontrada en Sand Creek en el Rancho Golliher del condado de Meade, Kansas, indica que durante un corto periodo de tiempo, cercano al final del pleistoceno (hace unos de 12.500 años), probablemente prevalecieron condiciones de estepa fría en esta área. Estas condiciones ambientales se infieren de la presencia de roedores del norte como Zapus princeps, Microtus pennsylvanicus, Thomomys cf. talpoides, y del topillo Microtus (Pedomys) parmaleei, n. sp., presuntamente habitante de estepas frías, más la ausencia de ratas algodoneras. La comparación de la diversidad en morfología de la corona dental del m1de Microtus pennsylvanicus en Kansas a lo largo del Pleistoceno superior muestra que el patrón de diversidad moderno se desarrolló durante un corto periodo de tiempo de unos 1.500 años, probablemente durante el intervalo cubierto por el Dryas reciente. Un pliegue en un prisma relleno de cemento, rasgo comúnmente encontrado en especies extintas de Mimomys con raíces, aparece en tres primeros molares con crecimiento continuo de Microtus pennsylvanicus. La asociación de roedores de Golliher B ayuda a completar la información disponible del proyecto en curso "Roedores de la Cuenca de Meade" con el registro del Pleistoceno superior.
Palabras clave: Golliher; roedores; Kansas
Translator: Author
Etude préliminaire des rongeurs de l'assemblage Golliher B du conté de Meade, Kansas
Un assemblage de rongeurs découvert dans un niveau fin de sédiments le long de Sand Creek à Golliher Ranch dans le conté de Meade, Kansas, indique que des conditions steppiques froides ont dominé pour une courte période de temps proche de la fin de Pléistocène il y a environ 12.500 années radiocarbones. Cet environnement est suggéré par les différents rongeurs nord Zapus princeps, Microtus pennsylvanicus, Thomomys cf. talpoides et le campagnol Microtus (Pedomys) parmaleei, n. sp., supposés vivant dans des steppes froides, plus l'absence du rat du coton. La comparaison de la diversité morphologique des couronnes de campagnols de prairies dans le Pléistocène supérieur du Kansas montre que le schéma moderne de diversité c'est développé sur une courte période de 1500 ans, peut-être pendant l'intervalle Younger Dryas. Un pli prismatique rempli de cément, une caractéristique commune chez les espèces éteintes de Mimomys possédant des racines aux molaires, apparaît chez trois premières molaires de Microtus pennsylvanicus dépourvues de racines. L'assemblage Golliher B aide à compléter l'histoire des rongeurs Pléistocènes supérieurs, dans le cadre du projet 'Meade Basin Rodent' en cours.
Mots clés : Golliher; rongeurs; Kansas
Translator: Olivier Maridet
Vorstudie über Nagetiere von der Golliher B Assemblage von Meade County, Kansas
Eine Ansammlung von Nagetieren in einer dünnen Schicht von Sedimenten entlang Sand Cree auf der Golliher Ranch in Meade County von Kansas weist darauf hin, dass gegen Ende des Pleistozäns vor 12 500 Jahren wahrscheinlich für kurze Zeit Kaltsteppenbedingungen herrschten. Die disjunkten Nagetiere Zapus princeps, Microtus pennsylvanicus, Thomomys cf. talpoides und die vermutete Kaltsteppenwühlmaus Microtus (Pedomys) parmaleei, n. sp., sowie das Fehlen von Baumwollratten legen diese Umweltbedingungen nahe. Ein Vergleich der Vielfalt der m1 Kronenmorphologie der Wiesenwühlmaus aus dem späten Pleistozän von Kansas zeigt, dass das moderne Muster der Vielfalt in einer relativ kurzen Zeit, wahrscheinlich während des jüngeren Dryas Intervalls entstand. Eine zementgefüllte Prismafalte, die ein Merkmal ist, das allgemein bei ausgestorbenen Arten von Mimomys mit bewurzelten Molaren auftritt kommt in drei wurzellosen ersten oberen Molaren von Microtus pennsylvanicus vor. Die Golliher B Assemblage hilft die Lücke der spätpleistozänen Geschichte im laufenden Meade Basin Rodent Project zu füllen.
SCHLÜSSELWÖRTER: Golliher; Nagetiere; Kansas
Translator: Eva Gebauer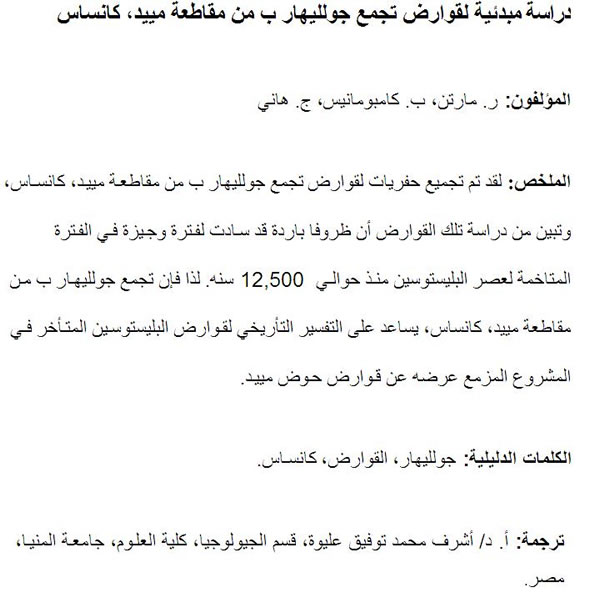 Translator: Ashraf M.T. Elewa
WSTĘPNE BADANIE SSAKÓW Z ZESPOŁU GOLLIHER B HRABSTWA MEADE, KANSAS
Zespół ssaków pochodzący z cienkiej warstwy osadów wystepujących wzdłuż Sand Creek na Ranczu Golliher w Hrabstwie Meade w Kansas, wskazuje że blisko granicy plejstocenu (12,500 datowane metodą radiowęglową), przez krótki okres czasu, przeważał najprawdopodobniej zimny klimat stepowy. Warunki tego typu sugeruje występowanie odseparowanych od pozostałych, północnych populacji ssaków z gatunku Zapus princeps, Micratus pennsylvanicus, Thomomys cf. talpoides, n. sp. i występującej prawdopodobnie w środowisku zimnego stepu nornicy Micratus (Pedomys) parmaleei, n. sp. Warunki te sugeruje również brak występowania bawełniaków. Porównanie zróżnicowania na przestrzeni późnego plejstocenu rejonu Kansas morfologii korony pierwszego trzonowca nornicy z Meadow pokazuje, że współczesny wzór zróżnicowania wykształcił się w krótkim okresie około 1500 lat, najprawdopodobniej podczas młodszego dryasu. Na trzech nieukorzenionych dolnych trzonowcach gatunku Micratus pennsylvanicus występuje wypełniony cementem fałd, który jest cechą pospolicie wystepującą u wymarłych gatunków rodzaju Mimomys z ukorzenionymi trzonowcami. Zespół Golliher B pomaga uzupełnić historię gryzoni z późnego plejstocenu w trwającym Projekcie Gryzoni z Basenu Meade.
Słowa kluczowe: Golliher, gryzoń, Kansas
Translators: Dawid Mazurek, Robert Bronowicz, and Daniel Madzia
Studio preliminare dei roditori del Golliher B Assemblage, Meade County, Kansas
Un'associazione a roditori rinvenuta in un sottile strato di sedimento lungo il Sand Creek (Golliher Ranch, Meade County, Kansas) suggerisce che le condizioni di steppa fredda prevalsero per un breve periodo alla fine del Pleistocene, intorno a 12,500 anni fa (età ricavata con il metodo del radiocarbonio). Questo tipo di ambiente è suggerito dalla presenza di roditori settentrionali come Zapus princeps, Microtus pennsylvanicus, Thomomys cf. talpoides, da Microtus (Pedomys) parmaleei, n. sp., un'arvicola che si suppone vivesse nelle steppe fredde, e dall'assenza dei ratti del cotone. Lo studio della diversità della morfologia della corona di m1 di Microtus pennsylvanicus durante il Pleistocene superiore del Kansas dimostra che il pattern di diversità moderno si è sviluppato in un periodo molto breve, ovvero di 1500 anni, probabilmente durante l'intervallo Dryas recente. Una piega prismatica riempita di cemento, una caratteristica comune delle specie estinte di Mimomys con i molari radicati, compare in tre m1 a crescita continua di Microtus pennsylvanicus. L'associazione di Golliher B contribuisce a ricostruire la storia tardo pleistocenica dei roditori nell'ambito del progetto tuttora in corso Meade Basin Rodent Project.
PAROLE CHIAVE: Golliher; roditori; Kansas
Translator: Chiara Angelone