New rodents (Mammalia, Rodentia, Cricetidae) from the Verde Fauna of Arizona and the Maxum Fauna of California, USA, early Blancan Land Mammal Age
We describe a new genus, Postcopemys, for several fossil cricetid rodent species assigned to the genus Antecalomys since 1998, and assign four species, Postcopemys repenningi new species, Postcopemys maxumensis new species, Postcopemys valensis (Shotwell 1967) and Postcopemys vasquezi (Jacobs 1977) to the new genus Postcopemys. The genus Antecalomys was named to suggest transitional dental features between the common North American fossil genus Copemys and the cricetid lineage Sigmodontinae (e.g., Antecalomys phthanus Korth 1998) that possibly gave rise to a radiation of cricetid rodents in South America. We point out that the species we assign to Postcopemys are more clearly related to the modern cricetid genus Peromyscus than to the genus Bensonomys and the lineage of Sigmodontinae. The genus Peromyscus is the most widespread and diverse cricetid rodent genus in modern North American faunas. Modern Peromyscus is represented by 16 species, including the deer mouse, the white-footed mouse, the cotton mouse, the cactus mouse, the brush mouse, and the golden mouse.
Cricetid rodents made an explosive radiation in South America following the Great American Biotic Interchange, about 3 to 4 million years ago. Diversity of cricetid rodents in modern faunas of South America includes, questionably, more than 40 genera and about 200 species, presumably derived from a single or closely related lineage of North American sigmodontine cricetid. Ancestry of the South American cricetid radiation is hotly debated, with most researchers recognizing possible ancestors among cricetid fossils in North America prior to the Great American Biotic Interchange. Oryzomys, the rice rat, and Sigmodon, the cotton rat, are two of the few cricetid rodents that are known from both North America and South America; both, therefore, are potential candidates for partial responsibility of the South American radiation of cricetids. We point out that the fossil genus Jacobsomys, known only from North America, may have given rise to the genus Oryzomys, the rice rat, in North America about five million years ago.
Nuevos roedores (Mammalia, Rodentia, Cricetidae) de la fauna de Verde, Arizona, y de la fauna de Maxum, California (EE. UU.), de edad Blanquense inferior (NALMA)
Se describe un nuevo género y una nueva especie de roedor cricétido, Postcopemys repenningi, procedente de la faunas locales de Verde en Arizona y Maxum en California. Se comunica además el registro de otros dos roedores, Postcopemys maxumensis, nueva especie, y Jacobsomys dailyi, en la fauna de Maxum., También se describe Jacobsomys dailyi y se señala la prsencia Postcopemys valensis [May et al., este volumen] en la fauna de Warren, sur de California]. Por su parte, Czaplewski (1987a) encontró Jacobsomys verdensis en la fauna de Verde. La edad de estas tres faunas (las de Warren y Maxum en California y la de Verde en Arizona) se considera cercana al límite Blanquense/ Hemphilliense. Los géneros de pequeños mamíferos Postcopemys y Jacobsomys tienen un gran interés ya que el primero de ellos puede representar un estadio evolutivo intermedio entre el extinguido Copemys y el actual Peromyscus, mientras que Jacobsomys podría ilustrar la transición entre el extinguido Bensonomys y el actual Oryzomys. Ambos géneros pueden ser útiles para ordenar las faunas de mamíferos en relación con las edades continentales Blanquense y Hemphilliense.
PALABRAS CLAVE: Cricetidae; Verde; Maxum; Blanquense; fósiles; Plioceno.
Traducción: Miguel Company
Nouveau rongeurs (Mammalia, Rodentia, Cricetidae) des faunes de Verde en Arizona et de Maxum en Californie, USA, âges continental mammalien Blancien.
Le rongeur cricetidae Postcopemys repenningi, nouveau genre et nouvelle espèce, est décrit à partir des faunes de Verde en Arizona et de Maxum en Californie. Deux autres rongeurs, Postcopemys maxumensis, nouvelle espèce, et Jacobsomys dailyi sont également signalés ici provenant de la faune Maxum. Jacobsomys dailyi est décrit et Postcopemys valensis est signalé [par May et al., ce volume] provenant de la faune Warren du sud de la Californie. Jacobsomys verdensis a été signalé dans la faune Verde par Czaplewski (1987a). Ces trois faunes (les faunes Warren et Maxum de Californie et la faune Verde d'Arizona) sont considérées d'âges proches de la limite Blancien/Hemphillien, et les deux genres Postcopemys et Jacobsomys sont des petits mammifères importants de par leur le degrés évolutifs qui devraient s'avérer utile pour démontrer les transitions morphologiques entre la forme fossile Copemys et la forme actuelle Peromyscus via Postcopemys, et entre la lignée fossile Bensonomys jusqu'à la lignée actuelle Oryzomys via Jacobsomys, de même que pour ordonner les faunes de mammifères par rapport aux âges continentaux mammaliens Blancien et Hemphillien.
Mots clés: Cricetidae; Verde; Maxum; Blancien; fossiles; Pliocène
Translator: Olivier Maridet
Neue Nagetiere (Mammalia, Rodentia, Cricetidae) aus der Verde Fauna von Arizona und der Maxum Fauna von Kalifornien, USA, frühes Blancan (Landsäugetierzeitalter)
Der cricetide Nager Postcopemys repenningi, neue Gattung, neue Art, aus der Verde Fauna von Arizona und der Maxum Fauna von Kalifornien wird beschrieben. Es wird hier auf zwei weitere Nager, Postcopemys maxumensis, neue Art und Jacobsomys dailyi aus der Maxum Fauna hingewiesen. Jacobsomys dailyi wird beschrieben und über Postcopemys valensis wird berichtet [von May et al., dieser Band] Beide stammen aus der Warren Fauna im südlichen Kalifornien. Auf Jacobsomys verdensis aus der Verde Fauna wurde von Czaplewski (1987a) verwiesen. Diese drei Faunen (die Warren and Maxum Faunen in Kalifornien und die Verde Fauna in Arizona) werden nahe der Blancan/Hemphillian – Grenze angesiedelt. Die beiden Gattungen Postcopemys und Jacobsomys sind wichtige kleine Säugetiere, deren Evolutionsstufe hilft, den morphologischen Übergang zwischen dem ausgestorbenen Copemys und dem heutigen Peromyscus über Postcopemys aufzuzeigen. Ebenso wird die Linie des ausgestorbenen Bensonomys zum heutigen Oryzomys über Jacobsomys erhellt. Außerdem können mit ihrer Hilfe Säugetierfaunen relativ zu den Blancan und Hemphillian Landsäugetierzeitaltern eingeordnet werden.
Schlüsselwörter: Cricetidae; Verde; Maxum; Blancan; Fossilien; Pliozän
Translator: Eva Gebauer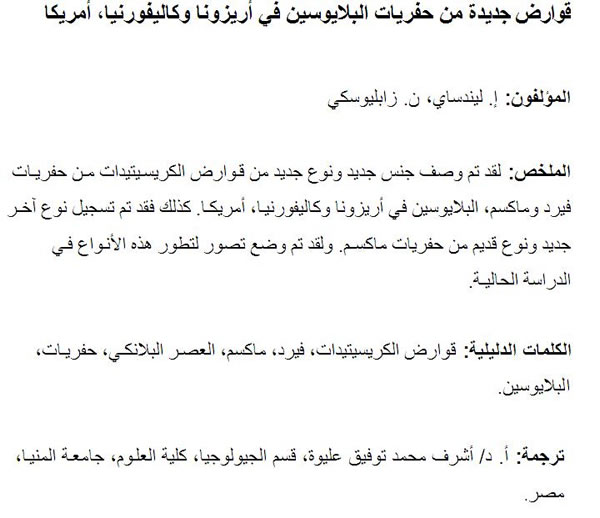 Translator: Ashraf M.T. Elewa
Nowe gryzonie (Mammalia, Rodentia, Cricetidae) z fauny Verde w Arizonie i fauny Maxum w Kalifornii, USA (wczesny wiek ssaków lądowych blancan)
Z fauny Verde w Arizonie i fauny Maxum w Kalifornii opisany został gryzoń chomikowaty Postcopemys repenningi, nowy rodzaj i nowy gatunek. Dwa inne gryzonie, Postcopemys maxumensis, nowy gatunek, i Jacobsomys dailyi, zostały opisane z fauny Maxum. Z fauny Warren w południowej Kalifornii opisano gatunek Jacobsomys dailyi oraz odnaleziono gatunek Postcopemys valensis [opis w Maya i in., niniejszy tom]. Czaplewski (1987a) donosił o występowaniu w faunie Verde gatunku Jacobsomys verdensis. Te trzy fauny (Warren i Maxum w Kalifornii i Verde w Arizonie) uważane są za bliskie granicy blancan/hemphillian, a rodzaje Postcopemys i Jacobsomys stanowią ważne małe ssaki, których ewolucja powinna okazać się przydatna dla zrozumienia przejścia morfologicznego między wymarłym rodzajem Copemys i żyjącym Peromyscus przez rodzaj Postcopemys oraz między wymarłym rodzajem Bensonomys przez Jacobsomys do żyjącego współcześnie Oryzomys. Są one również przydatne do przyporządkowania pokrewnych faun ssaków wiekom ssaków lądowych blancan i hemphillian.
Słowa kluczowe: Cricetidae; Verde; Maxum; Blancan; skamieniałości; pliocen
Translators: Dawid Mazurek, Robert Bronowicz, and Daniel Madzia
Nuovi roditori (Mammalia, Rodentia, Cricetidae) dalla Verde Fauna (Arizona) e dalla Maxum Fauna (California), USA, Blancano inferiore
Viene descritto il cricetide Postcopemys repenningi, nuovo genere e nuova specie, rinvenuto nella Maxum Fauna (California) e nella Verde Fauna (Arizona). Segnaliamo inoltre altri due roditori: Jacobsomys dailyi e la nuova specie Postcopemys maxumensis dalla Maxum fauna. Viene descritto Jacobsomys dailyi e viene segnalato Postcopemys valensis [da May et al., questo volume] dalla Warren fauna in California meridionale. Jacobsomys verdensis è stato segnalato nella Verde fauna da Czaplewski (1987a). La Warren fauna e la Maxum fauna (California), così come la Verde fauna (Arizona), sono considerate vicine al passaggio Blancano/Hemphilliano e i due generi Postcopemys e Jacobsomys sono importanti in quanto i loro stadi evolutivi possono essere utili per dimostrare la transizione morfologica tra il genere estinto Copemys e il genere vivente Peromyscus via Postcopemys, e quella fra l'estinto Bensonomys all'attuale Oryzomys via Jacobsomys; inoltre possono essere utili per ordinare temporalmente faune a mammiferi appartenenti alle età a mammiferi Blancano e Hemphilliano.
PAROLE CHIAVE: Cricetidae; Verde; Maxum; Blancano; fossili; Pliocene
Translator: Chiara Angelone