DISCUSSION
DMNH 11843 is identified as Platypterygius Huene, 1922 based on the presence of large dorsal and ventral trochanters, rectangular phalanges, and the ulnar facet anteroposteriorly wider than the radial facet. It differs from Caypullisaurus Fernández, 1997, in which the facet for the radius is larger than that for the ulna and with Brachypterygius Huene, 1922, where the intermedium makes contact with the humerus.
DMNH 11843 is slightly larger than the now destroyed holotype of Platypterygius platydactylus. Based on this comparison, it is reasonable to estimate a total body length of 5 – 6 m for DMNH 11843 (Maxwell, written commun., 2009). DMNH 11843 is of similar size to the referred specimens of Platypterygius americanus, but the lack of more complete cranial material in this specimen prohibits DMNH 11843 from being described to species level with any degree of certainty.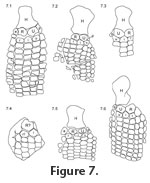 DMNH 11843 differs from UALVP 45636, in which the end of the humerus is expanded more proximally than distally (Figure 7.1-7.2). It differs from P. americanus (Nace 1939), in which McGowan (1972) described only the radius, ulna, and pisiform making contact with the humerus (Figure 7.3). It also differs from P. hauthali Huene, 1927, where the intermedium articulates distally with two digits (Figure 7.4). DMNH 11843 is more consistent with P. hercynicus Kuhn 1946 and P. australis McCoy 1867, based on the number of elements distal to the humerus (Figure 7.5-7.6).
Wade (1984) stated that a "four-bone wide fore-arm" could be used to diagnose the genus Platypterygius, and the number of articular facets on the distal humerus can be used to differentiate species referred to that genus. Maxwell and Caldwell (2006) indicated that the four distal facets that occur on the humerus of UALVP 45636 are sufficient in recognizing a second unnamed species for North America.
However, Wade (1990) describes P. longmani (synonymized with P. australis) as occasionally having articulation with the extra zeugopodial element. Wade (1990, p. 129) also suggested that P. hercynicus demonstrated variability between right and left forelimbs. The left forelimb has facets for an anterior zeugopodial and pisiform element, but on the right forelimb there are no facets and these elements appear to make contact against the distal corners of the humerus. This within-individual difference would suggest individual variability. Arkhangelsky's (1998) and McGowan and Motani's (2003) diagnosis of the genus Platypterygius includes the description of pre- and post- axial accessory elements contacting the humerus, occasionally via small facets. Given the amount of variability in Platypterygius Huene 1922 forelimbs, the presence of facets for an extra zeugopodial and pisiform element may not be a definitive character for diagnosing species.