Platypterygius Huene, 1922 (Ichthyosauria, Ophthalmosauridae)
from the Late Cretaceous of Texas, USA
A partial ichthyosaur skeleton is described from the Grayson Marl (Upper Cretaceous: Early Cenomanian, ~97MA) from Tarrant County, Texas. Prior to this discovery, the Cretaceous record of ichthyosaurs, marine reptiles that resembled fish and dolphins, in Texas consisted of isolated vertebrae. The new specimen consists of a partial disarticulated skull and postcranial elements including a postfrontal, parietal, quadrate, angular, surangular, several teeth, and 40 vertebrae, coracoid, and articulated partial forelimb. The forelimb is diagnostic in having an extra accessory bone in the forearm anterior to the radius, rectangular finger bones, and an intermedium (central wrist bone) that does not make contact with the humerus allowing referral to Platypterygius Huene, 1922. This represents the youngest occurrence of that taxon in Texas, and is consistent with late European occurrences of the genus Platypterygius.
Platypterygius Huene, 1922 (Ichthyosauria, Ophthalmosauridae) del Cretácico superior de Texas, EE. UU.
Se describe un esqueleto parcial de ictiosaurio procedente de la Formación Grayson Marl (Cretácico superior, Cenomaniense inferior, ~97 M.A.) del condado de Tarrant, Texas. Antes de este descubrimiento, el registro de ictiosaurios cretácicos en Texas se limitaba a vértebras aisladas. El nuevo ejemplar está constituido por elementos craneales y postcraneales desarticulados, tales como un hueso postfrontal, un parietal, un cuadrado, un angular, un surangular, varios dientes y algunas vértebras, incluyendo el complejo atlas-axis, el coracoides y un miembro anterior articulado parcialmente conservado. El miembro anterior tiene valor diagnóstico ya que conserva un elemento zeugopodial anterior al radio, falanges rectangulares y un hueso intermedio sin contacto con el húmero, lo que permite atribuir este ejemplar al género Platypterygius Huene 1922. Este es el registro más moderno de este taxón en Texas y es congruente con las apariciones tardías del género Platypterygius en Europa.
PALABRAS CLAVE: ictiosaurio; Tarrant County; Texas; Grayson Marl; Cenomaniense inferior
Translator: Miguel Company
Platypterygius Huene, 1922 (Ichthyosauria, Ophthalmosauridae) du crétacé supérieur du Texas, USA
Un squelette partiel d'ichthyosaures est décrit, provenant des marnes de Grayson (crétacé supérieur) du comté de Tarrant, Texas. Avant cette découverte, le registre d'ichthyosaures de crétacés du Texas était seulement constitué de vertèbres isolées. Ce nouveau spécimen est constitué d'un crâne partiel désarticulé et d'éléments post-crâniens, incluant un post-frontale, un pariétale, un angulaire, un surangulaire, plusieurs dents et plusieurs vertèbres dont un complexe atlas-axis, un coracoïde et un membre antérieur articulé. Le membre antérieur est diagnostique de par un élément zeugopodial antérieur au radius, des phalanges rectangulaires et un intermedium qui n'est pas en contacte avec l'humérus, le tout permettant une attribution à Platypterygius Huene 1922. Ceci constitue la plus récente occurrence de ce taxon au Texas, et est cohérant avec la présence de ce genre dans le crétacé supérieur d'Europe.
MOTS CLES: ichthyosaure; comté de Tarrant; Texas; marnes Grayson; Cénomanien inférieur.
Translator: Olivier Maridet
Platypterygius Huene, 1922 (Ichthyosauria, Ophthalmosauridae) aus der späten Kreide von Texas, USA
Es wird ein partielles Ichthyosaurier-Skelett aus dem Grayson Mergel (späte Kreide: frühes Cenoman, ~97 Ma) aus dem Tarrant County, Texas, beschrieben. Vor diesem Fund beschränkten sich die kreidezeitlichen Ichthyosaurier aus Texas nur auf isolierte Wirbel. Das neue Stück besteht aus Teilen des disartikulierten Schädels wie das Postfrontale, Parietale, Quadratum, Angulare, Surangulare, sowie einigen Zähnen und aus postcranialen Elementen wie einigen Wirbeln mit dem Atlas-Axis Komplex, dem Coracoid und der partiellen artikulierten Vorderextremität. Die Vorderextremität ist diagnostisch, da sie das Zeugopodium anterior zum Radius, rechteckige Phalangen und ein Intermedium, das nicht mit dem Humerus kontaktiert, aufweist. Dies erlaubt einen Vergleich mit Platypterygius von Huene, 1922. Hiermit wird das jüngste Auftreten dieses Taxons in Texas vertreten, was mit den späten Vorkommen der Gattung Platypterygius in Europa übereinstimmt.
Schlüsselwörter: Ichthyosaurier; Tarrant County; Texas; Grayson Mergel; Frühes Cenoman
Translator: Eva Gebauer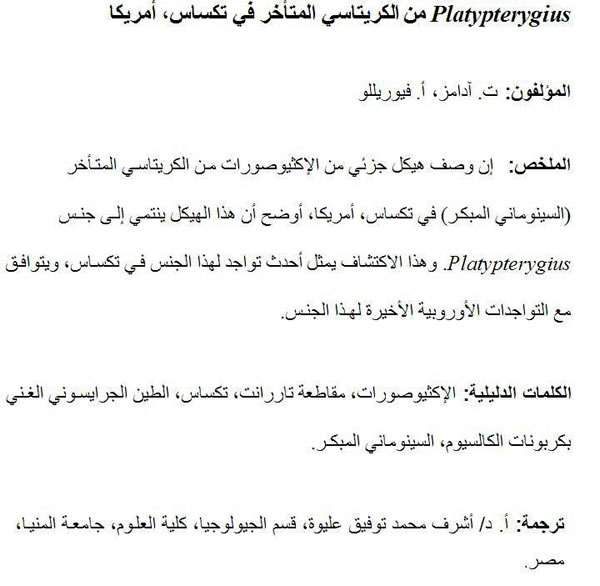 Translator: Ashraf M.T. Elewa
Platypterygius Huene, 1922 (Ichthyosauria, Ophthalmosauridae) z późnej kredy Teksasu, USA
Opisany został fragmentaryczny szkielet ichtiozaura z Grayson Marl (późna kreda: wczesny cenoman, ~ 97 Ma) z Tarrant County, w Teksasie. Przed tym odkryciem zapis kredowy ichtiozaurów z Teksasu obejmował jedynie izolowane kręgi. Nowy okaz składa się z niekompletnej nieartykułowanej czaszki i szkieletu pozaczaszkowego zawierającego kość zaczołową, ciemieniową, kwadratową, kątową, nadkątową, kilka zębów i kilka kręgów (w tym kompleks dźwigacz-obrotnik), kość kruczą i artykułowaną fragmentaryczną kończynę przednią. Do cech diagnostycznych kończyny przedniej należy przednie ustawienie elementów przejściowych kończyny (zeugopodium) w stosunku do kości promieniowej, prostokątne paliczki i intermedium, które nie jest połączone z kością ramieniową, co umożliwia zaliczenie okazu do rodzaju Platypterygius Huene 1922. Okaz ten stanowi najmłodszy pod względem wieku geologicznego zapis tego taksonu w Teksasie i odpowiada późnemu wystąpowaniu rodzaju Platypterygius w Europie.
Słowa kluczowe: ichtiozaur; hrabstwo Tarrant; Texas; Grayson Marl; wczesny cenoman
Translators: Dawid Mazurek, Robert Bronowicz, and Daniel Madzia
Platypterygius Huene, 1922 (Ichthyosauria: Ophtalmosauridae) del Cretaceo Superiore del Texas, USA
Viene descritto lo scheletro incompleto di un ittiosauro rinvenuto nelle Grayson Marl (Cretaceo Superiore: Cenomaniano inferiore, ~97 MA) della Tarrant County, Texas. Prima di questa scoperta, il record fossilifero degli ittiosauri del Cretaceo del Texas includeva solo alcune vertebre isolate. Il nuovo esemplare include parte del cranio disarticolato, numerosi elementi dello scheletro tra cui il postfrontale, parietale, quadrato, angolare, sovrangolare, diversi denti e vertebre, incluso il complesso articolare dell'atlante, coracoide e parte degli arti anteriori ancora articolati.
Gli arti anteriori sono diagnostici avendo lo zeugopodio in posizione anteriore rispetto al radio, falangi rettangolari e ossa intermedie non in contatto con l'omero e permetteno di classificare il reperto come Platypterygius Huene, 1922. Il ritrovamento rappresenta la più giovane presenza di questo taxon in Texas ed è inoltre consistente con la distribuzione del genere in Europa.
Parole Chiave: Ichthyosauri, Tarrant County, Texas, Grayson Marl (Marne di Grayson), Cenomaniano inferiore
Translation assistance from Dr. Federico Fanti
PE Translator: Chiara Angelone