Microtine rodents in the Frick Collection from Yushe Basin,
Shanxi Province, China
Charles Repenning is well known for advancing knowledge of the evolution of voles and their allies. These rodents are known collectively as "microtines", and Rep made a career of studying them in detail. His expertise was global in aspect and he made many friends among fellow microtine aficionados around the world. Rep was an authority on microtines in North America, and examined most of the fossil specimens in the collections of the American Museum of Natural History in New York. Relatively recently (1980s) two microtine jaws long held in the Frick collection became available for research. These had been recovered from China in 1935 by collectors working for Childs Frick. With the author (LJF) Rep began an analysis of the Frick specimens in 1985. Subsequent field research produced relevant new samples from Yushe Basin, with established provenance, which place the Frick specimens in scientific context. Two species are represented, one Plio-Pleistocene in age, and the other earlier Pliocene.
Roedores microtinos en la Colección Frick de la cuenca de Yushe, provincia de Shanxi, China
Probablemente, Charles A. Repenning examinó todas las colecciones de microtinos fósiles de los Estados Unidos y la mayor parte del resto del mundo. El American Museum of Natural History, en Nueva York, conserva ejemplares interesantes que atrajeron su atención. La Colección Frick del American Museum es bien conocida por sus restos de carnívoros y ungulados, pero los colectores de Frick también consiguieron "colar" micromamíferos entre los cajones que trajeron del campo. Entre los diversos fósiles de los depósitos del Plioceno de Nan Zhuang Gou (cuenca de Yushe, provincia de Shanxi, China) se encuentran dos interesantes microtinos que fueron reconocidos en la colección en la década de los ochenta. Al tiempo que progresaba el estudio de los ejemplares del American Museum bajo la dirección de Richard H. Tedford, Rep y yo concluimos que se trataba de dos taxones bien diferenciados. El trabajo de campo posterior en la cuenca de Yushe mostró que una de las especies, Mimomys gansunicus, estaba bien representada en los depósitos fluvio-lacustres del Plioceno superior. De la otra especie, Mimomys orientalis, que es claramente más antigua, no han aparecido nuevos ejemplares en las colecciones modernas de fósiles de Yushe. Las afinidades de esta especie hay que buscarlas en ejemplares de Mimomys encontrados en localidades de la cuenca de Yushe de una edad de 3.3 M.A. La asociación de Nan Zhuang Gou está compuesta por material de un intervalo que abarca, al menos, un millón de años y procedente probablemente de una gran parte de la subcuenca local.
PALABRAS CLAVE: China; cuenca de Yushe; microtinos; Plioceno; Mimomys; Cromeromys
Traducción: Miguel Company
Les rongeurs microtinés de la collection Frick provenant du bassin Yushe, Province du Shanxi, Chine
Charles A. Repenning a probablement examiné toutes les collections de fossiles microtinés des Etats-Unis, et le plus part d'entre elles à travers le monde. Le 'American Museum of Natural History', New York, détient de spécimens d'intérêt qui ont attiré son attention. La collection Frick du 'American Museum' est bien connue pour des échantillons de carnivores et d'ongulés, mais les collectionneurs de Frick ont également réussi à « engranger » des micromammifères dans les caisses revenues de la mission de terrain. Deux microtinés intéressants associés à divers fossiles provenant des dépôts d'âge Pliocène de Nan Zhuang Gou, bassin Yushe, province du Shanxi, Chine, ont été reconnus dans ces collections dans les années 80. Alors que l'étude des spécimens de l' 'American Museum' progressait sous la direction de Richard H. Tedford, Rep et moi avons déterminé qu'ils représentent deux taxa différents. Les missions de terrain suivantes dans le bassin de Yushe ont montré qu'une espèce, Mimomys gansunicus, est bien représentée dans les dépôts fluvio-lacustres du Pliocène supérieur. L'autre espèce, Mimomys orientalis, est clairement plus ancienne mais pas été retrouvée à ce jour dans les collections récentes de fossiles provenant de Yushe. Elle présente une affinité avec Mimomys provenant des localités de Yushe datant d'environ 3,3 Ma. L'assemblage de Nan Zhuang Gou est un composite de matériel couvrant une durée d'environ un million d'années, et a probablement été collecté sur une large portion du sous-bassin local.
Mots clés : Chine ; bassin de Yushe ; microtinés ; Pliocène, Mimomys; Cromeromys
Translator: Olivier Maridet
Microtine Nagetiere in der Frick-Sammlung aus den Yushe Becken, Shanxi Provinz, China
Charles A. Repenning hat wahrscheinlich jede Sammlung an fossilen microtinen Nagetieren in den USA und die meisten Sammlungen weltweit untersucht. Das Museum of Natural History in New York besitzt wichtige Stücke, die seine Aufmerksamkeit erregten. Die Frick-Sammlung des American Museum ist für seine Kollektion an Karnivoren und Ungulaten bekannt, doch die Sammler brachten es auch fertig die Kisten aus dem Feld mit dem ein oder anderen Mikrosäuger zu befüllen. Zwei interessante Microtinen begleiteten diverse Fossilien aus den pliozänen Ablagerungen von Nan Zhuang Gou, Yushe Becken, Sahnxi Provinz, China und wurden in den 1980er Jahren in der Kollektion erkannt. Als die Untersuchung der Stücke im American Museum unter der Leitung von Richard H. Tedford fortschritt, stellten Rep und ich fest, dass sie zwei getrennte Taxa darstellen. Anschließende Feldarbeit im Yushe Becken zeigte, dass eine Art, Mimomys gansunicus, in pliozänen fluvio-lakustrinen Ablagerungen stark vertreten ist. Die andere, Mimomys orientalis, ist deutlich älter aber es gibt noch keinen zweiten Fund in modernen Fossiliensammlungen aus Yushe. Sie weist jedoch Ähnlichkeiten mit Mimomys aus den Yushe Lokalitäten, die 3,3 Millionen Jahre alt sind auf. Die Assemblage von Nan Zhuang Gou ist aus Material zusammengesetzt welches mindestens eine Zeitspanne von einer Million Jahren umfasst und das wahrscheinlich über einen großen Teil des lokalen Subbeckens aufgebaut wurde.
SCHLÜSSELWÖRTER: China; Yushe Becken; Microtinen; Pliozän; Mimomys; Cromeromys
Translator: Eva Gebauer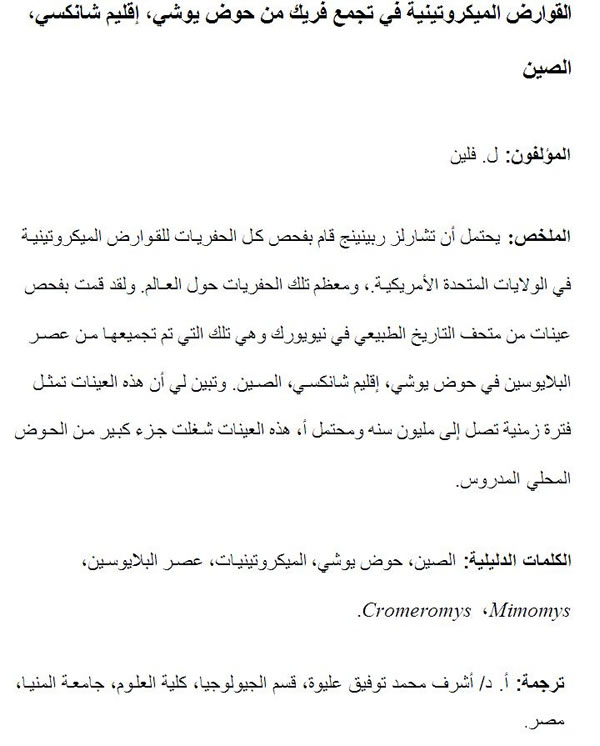 Translator: Ashraf M.T. Elewa
SSAKI NORNIKOWATE Z KOLEKCJI FRICK'a Z BASENU YUSHE, PROWINCJA SHANXI, CHINY
Charles A. Repenning przebadał zapewne wszystkie ssaki nornikowate ze Stanów Zjednoczonych oraz większość z pozostałej części naszego globu. W kolekcji Amerykańskiego Muzeum Historii Naturalnej w Nowym Jorku znajdują się pewne ważne okazy, które przyciągnęły jego uwagę. Kolekcja Frick'a z Amerykańskiego Muzeum jest szeroko znana ze swych okazów ssaków drapieżnych i kopytnych, jednak pracownicy zbierający okazy do tej kolekcji zdołali również "upchnąć" mikrossaki wewnątrz skrzyń przywiezionych z terenu. Dwa ciekawe ssaki nornikowate towarzyszyły różnym skamieniałościom z plioceńskich osadów Nan Zhuang Gou, Basenu Yushe, Prowincji Shanxi w Chinach i rozpoznane zostały w kolekcji w latach 80-ych. W miarę zaawansowania badań okazów z Amerykańskiego Muzeum, prowadzonych pod okiem Richarda H. Tedford'a, Rep i ja zauważyliśmy, iż ssaki te reprezentują dwa różne taksony. Późniejsze prace terenowe w Basenie Yushe pokazały, że jeden gatunek, Mimomys gansunicus, jest dobrze reprezentowany w osadach cieków i jezior późnego pliocenu. Drugi gatunek, Mimomys orientalia, jest wyraźne starszy jednak niereprezentowany we współczesnych kolekcjach skamieniałości z Yushe. Jest spokrewniony z rodzajem Mimomys znalezionym na stanowisku z Yushe datowanym na 3,3 mln lat. Zespół z Nan Zhuang Gou jest zbiorem materiału mieszczącego się w przedziale przynajmniej jednego miliona lat i został zapewne zebrany z dużej części lokalnego podbasenu.
Słowa kluczowe: Chiny, Basen Yushe, nornikowate, pliocen, Mimomys, Cromeromys
Translators: Dawid Mazurek, Robert Bronowicz, and Daniel Madzia
Roditori microtini dello Yushe Basin (Shanxi, Cina) della Collezione Frick
Charles A. Repenning ha probabilmente esaminato tutte le collezioni contenenti microtini fossili degli Stati Uniti, e quasi tutte quelle del mondo. Nell'American Museum of Natural History di New York, sono conservati importanti reperti che hanno attratto la sua attenzione. La collezione Frick, conservata nel museo, è molto nota per i carnivori e gli ungulati, ma coloro che hanno contribuito alla raccolta del materiale sono riusciti a "nascondere" nelle cassette anche dei micromammiferi.
Nei campioni di età pliocenica provenienti da Nan Zhuang Gou (Yushe Basin, Shanxi, Cina) furono individuati negli anni 80 del secolo scorso due microtini molto interessanti. Durante la direzione dell'American Museum da parte di Richard H. Tedford, io e Rep continuammo a studiare il materiale e stabilimmo che doveva trattarsi di due taxa distinti. In seguito, nuovi scavi effettuati nello Yushe Basin evidenziarono che una delle due specie, Mimomys gansunicus, è molto ben rappresentata in sedimenti fluvio-lacustri del Pliocene superiore. L'altra, Mimomys orientalis, è senza dubbio più antica e non è mai stata rinvenuta nelle collezioni moderne dello Yushe Basin. Si tratta di una forma affine a Mimomys presente nelle località dello Yushe Basin databili a circa 3.3 Ma. L'associazione di Nan Zhuang Gou è costituita da materiale composito che copre un intervallo temporale di un milione di anni, che è stato probabilmente acquisito in una larga porzione del sub-bacino locale.
PAROLE CHIAVE: Cina; Yushe Basin; microtini; Pliocene; Mimomys; Cromeromys
Translator: Chiara Angelone