MATERIALS AND METHODS
All fossils examined from Inglis 1A and Inglis 1C are curated in the Division of Vertebrate Paleontology of the Florida Museum of Natural History (UF). Specimens of Sigmodon hudspethensis are from the Madden Arroyo and Red Light faunas of Texas and are housed at the Vertebrate Paleontology Laboratory of the Texas Natural Science Center (TMM). Because the diagnostic characters of fossil Sigmodon are primarily on the lower first molar (m1), only isolated m1s and mandibles containing the m1 were included in this study (Appendix). Dental terminology follows Martin and Prince (1989).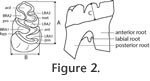 Measurements of teeth were made through a Wilde monocular microscope with an optical micrometer (Figure 2); all measurements are in millimeters. Because fossil specimens are often fragmentary and may include juveniles that do not have fully formed molar crowns, length and width of the teeth were measured at the occlusal surface. Abbreviations: m1, first lower molar; m2, second lower molar; m3, third lower molar.